Lessons from a Copywriter: The Oxford Whatta?
I've known for my entire life that I wanted to be a "writer," or at least in the writing industry, when I grew up. (As soon as I say that, I know you might be preparing yourself to scrutinize this blog post for typos or errors…*fingers crossed there aren't any*!)
Okay, okay. I've known for most of my life that I wanted to be a writer. I went through a really long phase when I was really young where I wanted to be a detective. Nancy Drew was my spirit animal, and I spent more time than I'm proud to admit solving mysteries around my neighborhood (a.k.a. lugging my binoculars with me and spying on the neighbors—I was 5; cut me some slack!)
I ended up studying English in college (Clemson—Go Tigers!), with an emphasis on Writing & Publication Studies and a minor in Creative Writing. When I first graduated college so many years ago, I remember feeling confident in my ability to write and in my knowledge of grammar.
I, like many new graduates, felt like I knew "it all."
After college, I accepted an offering for my first grown-up job, moved to Charlotte (shout out, QC!), and entered my first years of experience as a copywriter in the marketing industry.
With what I felt was a solid foundation of education and experience, I believed I was prepared to enter the real world.
Cue reality check.
Learning doesn't end when you graduate college, it doesn't end when you start your dream job, and it doesn't even end when you've climbed to the top of the corporate ladder. Learning never ends, which was the biggest lesson I received after college.
Here are some copywriting lessons I've learned since leaving the classroom:
1. The Oxford Comma
You do not have to use the Oxford comma. This was the hardest pill for me to swallow. When it comes to ads, banners, billboards, and any other form of visual marketing, you'll often see that the minimum amount of punctuation is used. This is why, when you see ads, the Oxford comma is rarely used, and sometimes even the period will be absent at the end of a sentence.
If you're as upset about the thought of an incomplete sentence as I was, you are not alone.
When it comes to the Oxford comma, either marry it or divorce it. Don't treat it like "your girl Friday," so to speak (ha!); be consistent.
If you're going to use it in a written proposal or on your website, be sure to use it throughout, and do the same if you decide to omit it.
2. When in doubt, double-check.
When I first entered the marketing industry, I was too ashamed to admit if I didn't have the answer for every question about grammar or the meaning of every word. I felt like, after four years of college, I should've known everything. Now, however, if I don't know the answer or am not confident in my first instincts, I have no problem researching for the correct answer. I'd rather be 100% confident in the decisions made for a client's copy because I want their content to be 100% accurate.
If there's any doubt, I double-check. That way, the next time the same question or problem occurs, I am fully equipped to answer and solve it.
3. Get a second pair of eyes.
When writing something, it's always important to read it, read it again, and read it one more time, checking for any missed typos or errors. Unfortunately, as humans, we have a tendency to memorize a document after reading it so many times. Have you ever seen a young child who appears to be "reading" a book, when they are actually reciting it from memory? This can happen to you, too! It means we're more likely to quit reading and start skimming, potentially missing mistakes.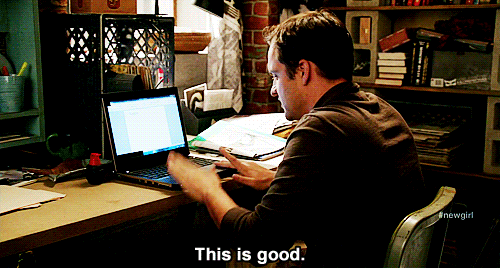 Whether it's writing lengthy proposals, generating content for a client's website, or even something as small as a blog post, I like to do one of two things: I will either get a second pair of eyes to read before submitting the final copy, or I will step away from the document for a period of time, before returning to it with fresh eyes.
These are three of the [many] lessons I've learned about copywriting, but perhaps the biggest lesson I've learned is to never quit learning! There's always something you don't know or a skill that you could strengthen. In most industries, including marketing, where things are constantly changing, it's important to keep up with the latest and greatest trends so that you can always stay ahead and be informed.
Like what you saw? Have something to add? Or even *gulp* spotted a typo? Share your thoughts with us on Twitter @cgrcreative!